Having a main-floor powder room is a bonus. Especially if you have bought an older home. Bathrooms on the main floor are convenient for both homeowners and your guests. 
The downside? Most bathrooms located on the main floor are small.  There is usually barely enough room for a toilet and a sink. This tiny space offers a great opportunity to unleash some bold design choices. Add some colours to your home if there is not already some. And some bold bright textures! 
Here are some tricks of the trade to add style and function into your tiny powder room. 
1. Add Dramatics
Small spaces can offer you the opportunity to pack some big design punches. Think about going in a totally different direction here than you may have used in the rest of your house. 
Most people want big bright homes. We get that! But, since you do not need this bathroom as a "functional" space for the day, take advantage of the small space and create a bold dark room. You can even add bold dark finishes to the room if you choose.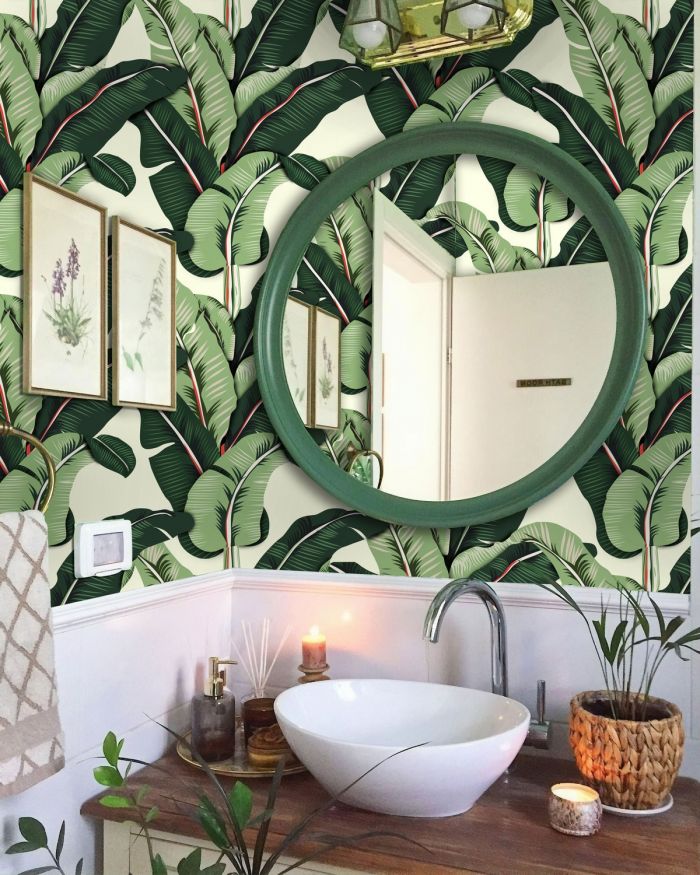 2.Use Color & Scale To Add Depth and More Space
You can also do the opposite as above and use light walls and a light toilet and vanity to keep the space looking bigger. Wall-hung toilets and vanities allow more open floor space, which makes a room feel more spacious. Pocket doors and doors that open outwards allow for more circulation space in a half-bathroom.
3.Focus On The Floor
As mentioned above – you are working with a small space so adding a dramatic or expensive floor won't be all that expensive! Choose something luxurious and bold to add visual interest and impact. We have seen people install penny floors which have a dramatic effect and it's a great conversation piece as well. 
You can use the same flooring throughout the house or you can change it up 100%. It's up to you. 
4.Include Luxurious Accents
Add some glamorous details such as a high-end faucet. Or maybe a show-stopping framed mirror. Including plush (luxurious hotel like) hand towels also packs a big punch.
5.Storage
Storage is a must for any room. Places for extra towel, toilet paper and soap!
Storage mirrored medicine cabinets are a great addition to the bathroom. A simple basket for extra toilet paper rolls can work to complement a floating or pedestal sink. A double toilet paper holder could also do the trick. You could also include hooks on the back of the door to add more towels, allow places for people to put their purses, etc.