Perception is Everything.
How much you think your house is worth and what it's actually worth in the eyes of potential buyers doesn't always align. Sometimes the number is close and a compromise is simple. Sometimes, the number is so far apart you know an agreement will never be made.
So, what is one to do when you find yourself in this situation?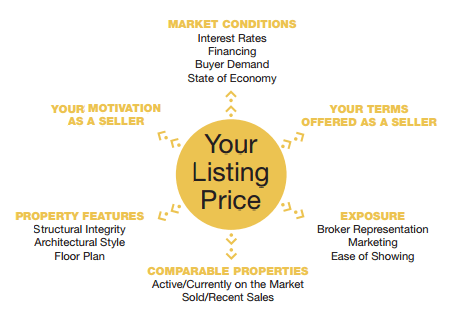 We have some of the factors to take under consideration when setting your asking price.
Professional Guidance:
Let professional experience guide your own experience. Even though you can pull comparables off line there is more to it than that. Your real estate agent — someone who understands the real estate dynamics in your specific area — will research how much comparable homes recently sold for. The agent will also consider how much similar properties are currently being marketed for. The current market temperament will also be taken into consideration (is it a buyers market or a sellers market). And last but not least, what is the economy looking like? That also plays a huge part in pricing. Did Cameco just lay off 5000 employees? Did the mines just layoff a number of people and the oil prices all affect real estate. This will give you an idea of the latest market value for your own property.
Pricing Too High:
What if you list high. This is actually one of the worst things that can happen? You could list high, get an all-cash buyer and skip happily into the sunset clutching your SOLD sign to your chest. Alternatively, and MUCH MORE LIKELY, you could list high, get a buyer who's interested but whose lender's appraisal of the property didn't come in at that high amount, and have the transaction fizzle out due to lack of financing. You could list high and have everyone over look your property. You could list high and sit on the market for 90+ days. Then, you will need to re-list… once that happens, it typically looks like there is a problem and that's why your house has not sold. Listing above market value can also result in a long sales period with no activity. Once your home is "stigmatized" it's an uphill battle.
Pricing Too Low:
What if you list low, and create some buyer excitement? Depending on your local market, you could list at just under market value in an effort to attract more offers, and generate a bidding war. While this strategy can work in a seller's market, you also have to take the chance it could backfire, and you find yourself facing just one offer that's at your discounted price, or even less. This is also the worst thing that can happen. You don't want to set the price too low and get low balled. Then you are once again in a position you don't want to be in.
What's Next?
Price your house properly for your greatest chance of an expedient and agreeable transaction; your real estate sales representative is your best guide for setting your home's correct price.
Pricing a home seems easy enough, but there is actually a lot that goes into it.
As always, if you are buying or selling your home we are here to help.
Gregg Bamford and Ryan Bamford