Bathrooms – no one spends a lot of time in them, but they are huge selling features when you go to sell a home! When it comes to bathrooms it is sort of like real estate – location is everything but with bathrooms – size is everything!
We have a few ideas to create a space efficient, stylish bathroom without sacrificing function. If you have a small or compact bathroom you are going to want to try some of these tips.
Here are a few small bathrooms that look larger than life!
1. Customize to maximize space
Hire a bathroom designer or bathroom renovator (someone who has years of experience in the space) to see how you can maximize every inch of your small bathroom while still meeting local building codes and ensuring you still your space.
With the cost of everything right now, custom cabinetry can be pricey (actually, any cabinetry is pricy right now), but consider the longevity and space the new design could afford you.
2. Or head in a different direction and ditch the vanity
If your bathroom feels cramped with a vanity consider a small wall-mounted sink instead. This is great especially if this is a powder where you may not require storage. To keep it from blah – splurge on a great vanity with amazing hardware.
3. Keep Everything Floating
Keeping everything off the ground makes your bathroom appear larger.  Keeping the ground clear will not only make your bathroom look larger, it will also make the floor easier to clean.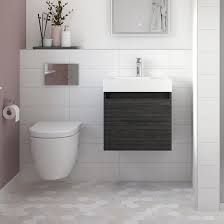 4. Tuck in the Toilet Tank
Just as stated above, keep the toilet light and out of the way. It will provide more leg room. You will have an easier space to clean and your bathroom looks bigger when entering it.
5. Opt for light or glass floors
Most of the previous photos feature baths and showers with frameless glass enclosures, and for good reason: They visually open up a space and don't block light. This one is hinged, which, in a tight space, makes it easier to bathe kids, get in and out and access the controls.