Remove Popcorn Ceilings
If you have recently bought an older home (or maybe even a new home) there's a chance popcorn ceilings are hanging over your head. If you think this aspect of design is overplayed and you plan to remove it, then you've come to the right place!
What Are Popcorn Ceilings:
Popcorn ceilings are also known as stucco, stipple or Artex. How do you know if you have popcorn ceilings… well they are marked by their bumpy texture. They can be characterized by swirling designs, or peaks that look like the top of a meringue pie. Some ceilings even got extra fancy and sparkles were added to the mix! The ceilings were developed as a textured finishing technique as a way to hide imperfections and seams in ceilings. The application also provided a minor sound-dampening effect.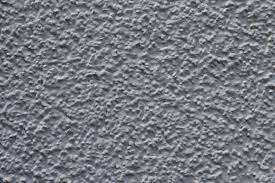 How Do You Remove Popcorn Ceilings:
Step 1: Spray, wait, scrape, repeat
Working in sections, use your spray bottle to moisten the stipple. 
Step 2: As with your earlier test, wait 15 minutes and then use your scraper to remove the texture while holding the mud pan underneath to catch it. 
Step 3: Repeat the process and as you near the edges and corners, switch to the smaller putty knife to avoid damaging your walls.
Pro tip: If you use a popcorn ceiling scraper, you can attach a bag to it to catch the material, negating the need for a mud pan.
Step 4: Sanding is required. Some rough patches or gouges are inevitable! You can repair these easily with a drywall sander. If you wish to avoid excessive dust, aim for a sander that attaches to a vacuum or has a built-in vacuum assembly.
Step 5: Touch-ups need to be done. If the underlying drywall tape gets damaged or if the seams become visible in the drywall, apply fresh drywall tape to affected areas and apply joint compound with your putty knife. If necessary, sand the areas smooth again.
As always, if you need help buying or selling or anything home related, do not hesitate to contact Gregg or Ryan.