Have you built, or are you about to build a new home in Saskatoon? There is something to a new home – maybe the new home smell or maybe the new paint with no chips, whatever it is, it makes buyers feel great!
However, there is a new trend in town – New Home's with Vintage Touches. The new trend is to have a new modern home build but with old vintage touches.
Here are some of the following trends:
1) Exterior Old Farmhouse Touches New Home's Vintage Touches
What does this look like? Think of an exterior with a large front porch! Now add board-and-batten siding and add a few barn lights and lanterns to create the ambience of yester-year. Now add X shapes on the railings and garage doors to finish off the old Farmhouse design.
Black accents are crucial for adding that old feeling but to add a feeling of modernism – throw in some rectilinear planters.
2) Large Beams Inside The House
In newer more modern homes, the kitchen and family room are typically open spaces. Ceiling beams add farmhouse touches to any home and also add a feeling of sophistication. Any beam colour would look great! Oak, black, whatever your heart desirers. Ensure your beams match the decor of the inside of your home.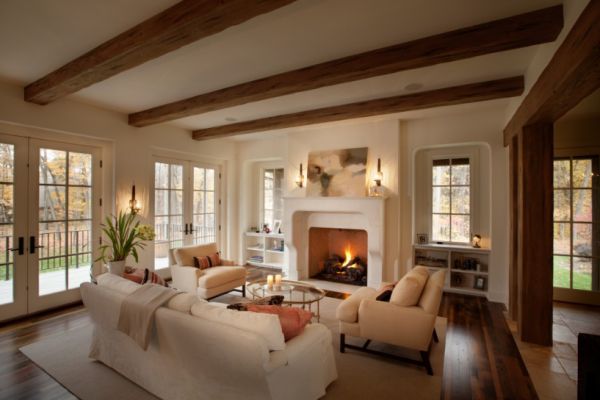 3) Large Black Windows
Large windows with black and simple flat trim provide a modern edgy look and fill the room with light. However, the black trim windows also make this home feel like an old farm house. This new home's vintage touches are a great combination and a great blend of modern and vintage.
4) Vintage Touches
A modern home that wants to add some vintages touches could add some copper lighting, copper faucets and large chandeliers. Blending blue hues, whites, and natural colors is the best way to get a modern vintage vibe.
As always, if you need help buying, selling or talking about staging your home contact Gregg Bamford or Ryan Bamford.