White always looks fresh and clean, so it's always in our kitchen trends. It's a sure way to appeal to everyone when buying selling (even living) in your home. White goes everything and it's really easy to see where you need to clean it.
White also allows the overall design shine through, without relying on gimmicks that quickly date the kitchen. With that said, people love colour. Other people love exploring design options and staying on trend. If that's you, this blog is for you. It includes the current kitchen trends.
1) Colourful Appliances
Yup. This trend is back. Back in 1950 and 1960 coloured appliances were a thing. The blue and green appliances were all the rage. Fast forward to 2019 and here we are again.
Even more trendy – buy the appliances that look like the old appliances. Colourful appliances inject a lot of colour into your home.
2) Colourful Cabinetry
White and dark wood used to be all the rage but having blue grey and beige coloured cabinets are currently all the rage. If a grey color or blue colour scare you, choose historical colours that are easy to match with the rest of the house.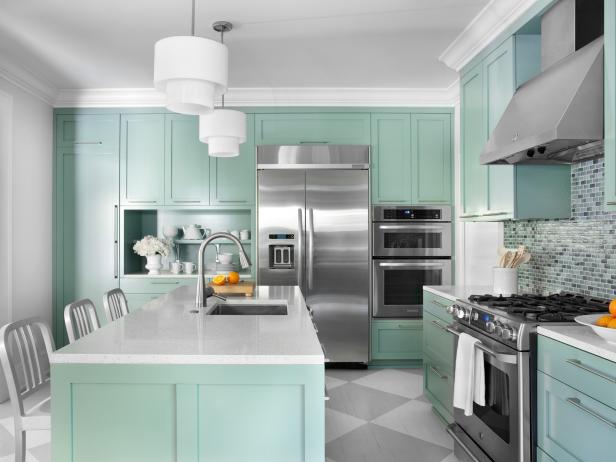 3) Geometric laminate or tiled floors
Bold patterned floors are all the rage right now. The black and white ones are always easy to match but grey has also been added to th emix.
4. Indoor-Outdoor Flow
The indoor – outdoor flow is not exactly new but it is defiantly something a lot more people are looking for. In Saskatoon it's a little bit harder, but having an indoor-outdoor space that can be used 3/4 seasons is great! Some people have started building their decks into an inclosed space with mesh around it to keep out the bugs. It's the perfect kitchen extension.
5) Gunmetal fixtures
Pewter and gunmetal are the trends we are loving. They're not as harsh as matte black or as specific as brass or gold, but it gives fixtures some texture and depth. They are also a great way to "add" something different to the kitchen if colour, paint, flooring and crazy appliances are not your jam.
As always, if you need help buying or selling your home, do not hesitate to reach out.
Gregg Bamford and Ryan Bamford