Getting your home fall ready is easier than you think.
In order to keep your home running efficiently and smoothly, we suggest making a yearly checklist. Make a fall checklist and spring checklist, that way, you will know what needs to be fixed and what's coming. You will be able to budget for large changes that might be on the horizon. Having a checklist will also keep major problems from creeping up on you – such as a leaky roof, a broken furnace or broken water lines.
Let's get started with ways to get your home fall ready, followed by a checklist of items you will want to monitor.
1) Shut Off and Drain Outside sprinklers
Make sure the waterlines have been blown out, hoses drained and last but not least ensure the water has been turned off to the outside.
All faucets that exit your home should have a shut-off valve located inside. These shut-offs are usually located close to where the faucet exits the basement to the outside, but can also be located further back in the home closer to where the pipe for the faucet branches off from the main water source. If you don't have shut-off valves or can't find them, contact a licensed plumber to have them installed.
Once the water is turned off inside, open the outside faucet to let it completely drain. If the inside shut-off valve has a drain plug — a small cap on the side of the shut-off — open it while the outside faucet is still turned to the on position (make sure to have a bucket under it when you open it as water will come out). Once all the water has completely drained from the line, close the drain plug on the shut-off valve and turn the outside faucet back to the off position.
2) Check All Weather Stripping
This is such a tedious task. We get it! No one wants to do this.
Weather stripping loses its effectiveness with age and needs to be replaced every few years.
Do a visual check of the stripping around exterior doors and windows (including your garage door) and replace if it appears worn or cracked.
If the stripping appears fine but you can feel air moving when your doors and windows are closed, check that the stripping has been installed properly or that you're using the correct stripping (there is a difference between door and window stripping, and a difference between foam and rubber stripping).
Keep in mind, you don't need to do this. You can also hire a professional to take this project on. However, make sure this project does get completed. This task can save you a lot of money down the road. It can also keep you warmer in winter.
3) Make Your Home Smart and Fall Ready
We wrote about this before. Having a smart home keeps your bills down. It keeps your house running the most efficiently (saving money and energy) it can and it keeps you on track for better understanding your home.
Nest, quickly and precisely automates the heating and the cooling of your home. This usually reduces your electric bill. Other products such as connected lights (hue) and appliances can use less energy by powering down when not in use.
These kinds of products should be high up on your smart home checklist.
While we are on the topic of heating and cooling your home – whole home A/C units should be powered down from the breaker in your main electrical panel. If you have a safety shut-off switch located outside by the A/C unit that should be turned off as well. Doing this keeps your A/C running smoothly and efficiently.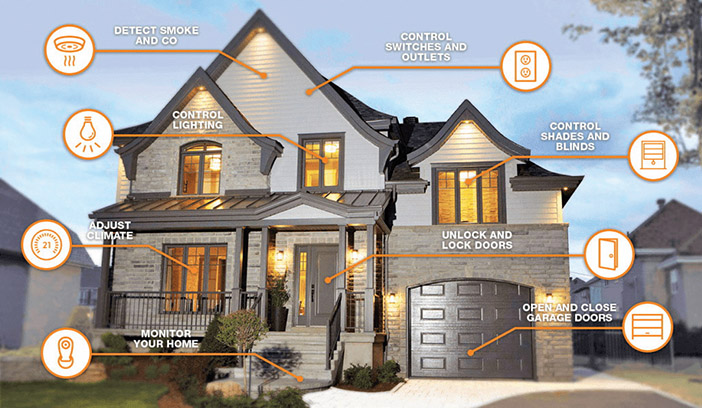 4) The Roof and Chimney Need A Thorough Checkover
You'll be so happy if you catch a problem with your roof now before water starts dripping on your head in the middle of a November or December snow and thaw.
The average lifespan of an asphalt shingled roof is between 20 and 25 years if installed properly. Factors such as critters, severe weather and harsh  weather will speed up the deterioration process. Saskatchewan has the harshest weather! We have high winds (sometimes tornados). We have extreme heat. And of course, we have nothing but the heavy and plentiful white stuff for 5 months out of the year.
From the outside look for signs of worn, loose or missing shingles and shingles with mold or rot on them.
Do a thorough check of eavestroughs for granules from the shingles (a sign of heavy wear) and ensure that your eavestroughs and flashing (the metal lip between your shingles and eavestroughs) are securely attached. If you have a metal, tiled or roof with solar panels it's best to have a professional do an inspection.
From inside your attic check the underside of your roof for water damage and holes. Also make sure there are no nests in your attic insulation and that vents in your soffits are not blocked. (Soffits connect the overhang of your roof to the top of your exterior walls and help vent unconditioned attics. Keeping these vents clear is important in having a healthy home).
As always, if you need help getting your home fall ready, let us know. If you are buying or selling a home, we can also help you out.
Gregg Bamford and Ryan Bamford