If you are not on TikTok you might not be up on this design trend. The new design trend is called, "Costal Grandma Decor". It's probably not what you are thinking either. It is a nod to style that can best be described as casually wealthy. It is a mix of modern touches, antiques and a laid back nautical design all rolled into one.
Still not able to picture it, no problem.
Picture this – an airy east coast mansion by the sea or a California countryside chateau. The main color palette is all off whites, whites, creams and blues, the textures are wicker and wood. The accent colors are sometimes brighter (like a bright red) which is where the nautical theme ties in.
There are usually large tables with large clear glass candle holders. These are usually full of seashells and decorative flowers, branches and or pussy willows. There are linen napkins arranged on the table and a ticking-stripe patterned mat covering the kitchen floor.
If this sounds like a look you want to achieve in your house here are some tips to get you started:
1) Throw blankets that are white, cream or beige and flung across the couch perfectly, yet look unassuming
2) Ticking stripe (as mentioned above) is the Coastal Grandma aesthetic in pattern form. It is both practical and elegant.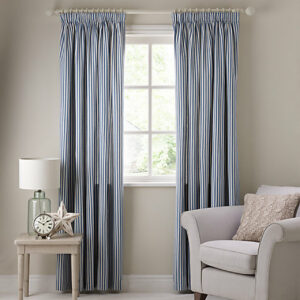 3) A good linen napkin is functionally, fancy reusable and, therefore, kinder to the environment.
4) The Coastal Grandma aesthetic would not be complete without copper in it. From pots and pans to gleaming stovetop kettles, it's the type of opulent cookware that was made to be left out on display.
5) Hurricane glass candle holders are a Coastal Grandma no-brainer. Their name resonates with the beach. You can fill these with candles, seashells, flowers, branches, the sky is the limit.