Did you have a chance to watch Gregg Bamford on CTV Morning Live Saskatoon on September 2nd?
Update on the market: August 2020 Monthly Real Estate?
– We are still seeing a very hot market with the lack of listings and interest rates but sales are down from July
– July saw a record breaking amount of house sold and the most in 40 years
– July and August both saw a 41% increase in sales over last year
– Historically our summer months are slower because most people are on vacation
With so much uncertainty in today's economy what do you believe will happen with real estate in Saskatoon?
Our job is to give our clients advice and as realtors paying attention to the economy, banks and insurers is what I feel is important
– Bank of Canada – The reason for the lower interests rates is to stimulate the economy and to increase spending and this is a major result of the real estate surge
– Canada Bankers Association shows that Residential Mortgages in Arrears have over doubled since 2013 and this was pre-covid
– CMHC forecasts – 9 – 18% decline over the next year. They also report the amount of people in Sask that deferred their mortgages was 14.8% and 21% in Alberta
– Canada's GDP was down 38.7% in Q2 in 2020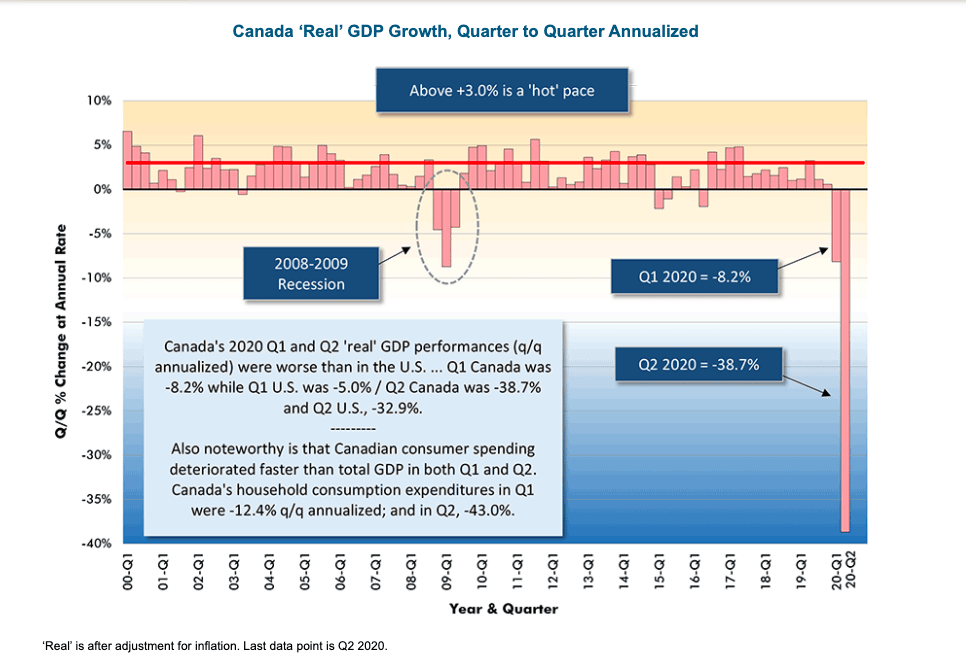 SOURCE:https://www.constructconnect.com/blog/1000-word-charts-canadas-quarterly-gdp-q2-2020
If this is what the banks and insurers are expecting, what are you suggesting to your clients in the coming months?
– Interest rates are at an all time low so if your considering buying it might be the right time if your buying in your means and plan on staying put for a longer amount of time
– We don't see interest rates going up anytime soon so if your locking in for a 5 year term ask yourself if you can afford the property if  interest rates went up 2%
– If your looking to sell now is the time, I believe house prices will drop in the next year from forecasts we shared before
With kids going back to school and in the new environment I think no one has a crystal ball to know exactly what's going to happen in the fall with housing
– If it goes well I believe this will continue to give the public confidence the same as when new phases opened in the spring
As always, if you need help buying or selling real estate, Gregg Bamford and Ryan Bamford are here to help.