A new year! New resolutions!
Many people look at getting healthier, learning new skills, quitting bad habits and many times, they resolve to keep a tidier home!  If you are part of the group that resolves to keep your home tidier this year, you are not alone!
It can be hard to keep on top of household cleaning as it starts to pile up (as it tends to do with life, work, pets and kids). 
We've made a checklist you can make sure your home stays spick and span all through the seasons and the new year. 
Step 1:
Before you think about cleaning, think about decluttering! 
A decluttered house helps declutter your mind. Less things in your home lighten the load (metaphorically speaking and actually speaking). The less items you have the easier it is to clean as well. 
Step 2:
Pick one thing to clean everyday. It can be anything. You can tidy bedrooms, closets, the living, kitchen or bathroom, but for high traffic areas like kitchens and bathrooms, we recommend a deep clean at least every two weeks! That means a deep scrub of all areas.
For other spaces in the home, try to schedule a monthly clean-up that not only involves cleaning, but also purging items that don't belong in each area. 
Trust us when we tell you, there's always something that needs to be returned to its rightful place in the home—or needs to find its place. Cleaning up is easier when you tackle one item, one room or one thing everyday. 
Step 3:
Clean in order so it is most effective.
Start with the top higher items like dusting. Work your way down. Clean the walls if they need, counters etc. Start with higher surfaces first and do the floor last.
Here is the order you should clean in:
Dusting
Wiping surfaces
Vacuuming
Mopping (if necessary)
Start one room at a time. This will make you feel more accomplished. It will keep things in check if you are feeling overwhelmed and you can start with rooms that are used everyday.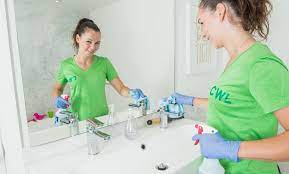 Putting It All Together:
Sticking to a cleaning routine is a great New Year's resolution to strive for! With these tips you'll have everything you need to succeed—and to keep your house spick and span all year round. 
As always, if you need help with anything home related do not hesitate to reach out to Gregg or Ryan.