2022 Interest Rates have been going up.
Most likely, this trend will continue into 2023.
The Bank of Canada (BOC) increased its target for the rate to 3¾%. The Bank Rate is at 4% and the deposit rate at 3¾%. It is also continuing its policy of quantitative tightening.
BOC has not ruled out another oversized interest rate hike to fight sky-high inflation, governor Tiff Macklem said on Tuesday, acknowledging Canadians feel "ripped off" by fast-rising prices.
What Does This Mean For Me?
Inflation around the world remains high. This reflects the strength of the global recovery from the pandemic. As a side effect there is now a series of global supply disruptions. That leads to elevated commodity prices. Energy in particular is costing a lot more due to Russia's attack on Ukraine. 
The strength of the US dollar is adding to inflationary pressures in many countries. Tighter monetary policies aimed at controlling inflation are weighing on economic activity around the world. As economies slow and supply disruptions ease, global inflation is expected to come down.
The Bank projects no growth in the US economy through most of next year. In the euro area, the economy is forecast to contract in the quarters ahead, largely due to acute energy shortages. 
Overall, the Bank projects that global growth will slow from 3% in 2022 to about 1½% in 2023, and then pick back up to roughly 2½% in 2024. This is a slower pace of growth than was projected in the Bank's July Monetary Policy Report (MPR).
In Canada, the economy continues to operate in excess demand and labor markets remain tight. The demand for goods and services is still running ahead of the economy's ability to supply them, putting upward pressure on domestic inflation. Businesses continue to report widespread labor shortages and, with the full reopening of the economy, strong demand has led to a sharp rise in the price of services.
How Much Will My Mortgage Cost?
Here are a few examples of what will change on your mortgage. We have an example for a $500,000 mortgage and a $300,000 mortgage.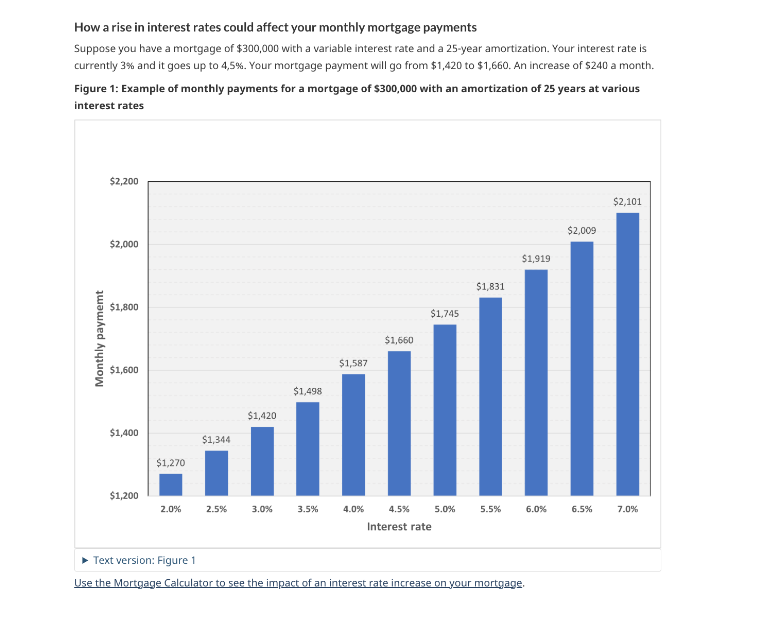 How Will This Affect Housing?
The Bank of Canada's pursuit to control inflation through increases to interest rates will continue to have a trickle down effect into the country's rental market.
In the past year, the average rent for all property types climbed to $2,043 as of September 2022, according to rentals.ca, an industry tracker. This is a 15.4 per cent climb compared to the same time last year. 
Interest rates have an impact on rent but we're also still very concerned about low inventory numbers being low.
Labour shortages means that builders may not be able to bring the right amount of housing units to the market to keep up with the demand.
As always, if you need help buying or selling your home do not hesitate to contact Gregg Bamford or Ryan Bamford